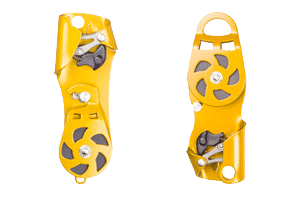 New versions of our HURRICANE and CYCLONE lifting & lowering devices will shortly be available.
Constructed of lightweight alloy and incorporating our trademark X-Cam design, these devices offer simple solutions for a range of lifting & lowering tasks.
HURRICANE – alloy rope clamp with pulley
Intuitive compact device allows quick and easy creation of a hauling system at any point along the rope. The lifting system can therefore be remote from the casualty reducing the amount of rope required by around 70%.
The pulley position can be reset using the karabiner connection point near the cam.
Features:
Lightweight, simple to use design
Self locking pulley catch with simplified operation
Can easily be attached to a loaded rope
Small tether ring to secure the device and prevent dropping
High performance X-Cam™
Rating (normal use) 3kN
Rope: 10.5 – 11mm
Patented
The HURRICANE is also available in stainless steel, as part of our advanced lifting systems or RESCUEPACK™ Pro and RESCUEPACK ready-to-rescue system.
The alloy HURRICANE is due for release in April.
CYCLONE –  alloy locking pulley
Specifically designed to aid hauling of various equipment and materials.
Features:
Specialist locking pulley
Simple clean design for ease of rigging
Low friction pulley wheel
High performance X-Cam™
Rating (normal use) 100kg working load
Rope: 10.5 – 11mm
NB: Not certified for lifting persons.
The CYCLONE is available in stainless or as part of our  Basic Lifting kit. The alloy CYCLONE is due release in March.
Subscribe to our Industry Update to keep up to date with our latest releases.
---