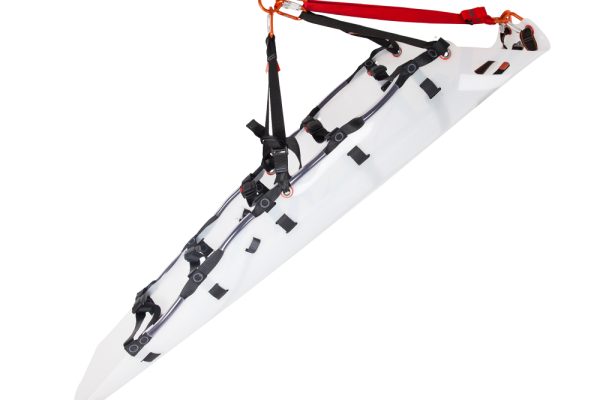 AVAILABLE NOW – POD Rescue Stretcher
Our new versatile rescue stretcher with patented integral casualty harness is designed for all forms of rescue and casualty handling.
It can be used for both horizontal and vertical lifting for rescue from a wide range of confined, exposed areas or high locations.
It is supremely lightweight and can be rolled up and bagged for easy transport and storage.
Main features:
Maximum security – patented integral casualty harness with single quick connect buckle to secure casualty. Tested to dynamic performance requirements of EN361:2002 (full body fall arrest harness) with mass of 140 kg falling 4m. The harness is fully adjustable to fit a wide range of casualty sizes.
When in use, the integral harness is always connected to the lifting points whether in horizontal or vertical lift, this ensures complete casualty security.
Durable robust design – semi-ridged plastic base with a low friction construction allows the POD rescue stretcher to easily slide or drag over surfaces.
10 year lifespan – all parts, textile and plastic.
Spine board compatible – spine boards can be used whilst retaining functionality of the integral harness.
Modifiable orientation – easily adjust the lifting bridle to pivot the POD stretcher between horizontal/vertical position, for passage through complex/confined spaces.
Eight low profile handles – reduce the risk of snagging, allowing multiple handlers to manoeuvre stretcher through difficult environments.
Fast & easy fit – five casualty restraint straps for quick and secure fitting to the casualty.
Infection control compliant – washable base sheet and textile components can be removed for disinfection and replacement.
The POD stretcher also features an integrated head restraint and foot stirrup. It is designed to allow X-ray s and CT scans without removing the casualty from the stretcher and is registered with UK Competent Authority, MHRA, Class 1 Medical Device.
The POD is supplied ready rolled in our KARI Transport bag.
For full specification details or to buy online click POD.
Manufactured in the UK by heightec.
---