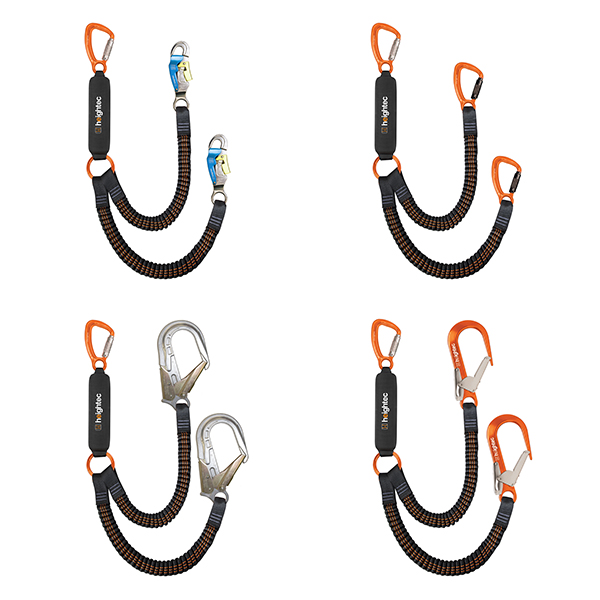 NEW FLEXOR elasticated twin lanyards  – AVAILABLE NOW
heightec has introduced a new range of energy absorbing twin lanyards. The new FLEXOR lanyards feature elasticated twin legs for reduced stowage and leg length.
Total Security – allows continuous connection to a ladder or structure when climbing masts and towers without the risk of entanglement. The retracted length, when not under load, reduces snag risk, improving safety whilst enabling longer lanyards to be used.
Reduced Stowage – elasticated section will reduce to a third of its extended length (see dimensions below). The large central ring provides parking point for unused leg and prevents issues caused by 3 way loading.
Energy Absorbing – will not deploy at force less than 200 kg. Minimum strength 1500 kg after deployment. The energy absorber has a durable cover which can be peeled back to allow fast, easy inspection.
High Load Rating – approved for users up to 140kg.
Optional Connector & Lengths – a range of connector and length options are available:
Compatible with specific rope grabs for rescue.
Unique serial ID number for traceability and ease of equipment management.
Click to view our full range of Twin Energy Absorbing Lanyards
_______________________________________

heightec is the only UK manufacturer that specialises in the design of technical fall protection equipment who offers complementary training and support services via our national network of Height Safety Centres. As an established UK manufacturer of work at height and rescue equipment, all customers who complete training with us automatically receive 15% off discount code which can be used to order any heightec equipment online.

---