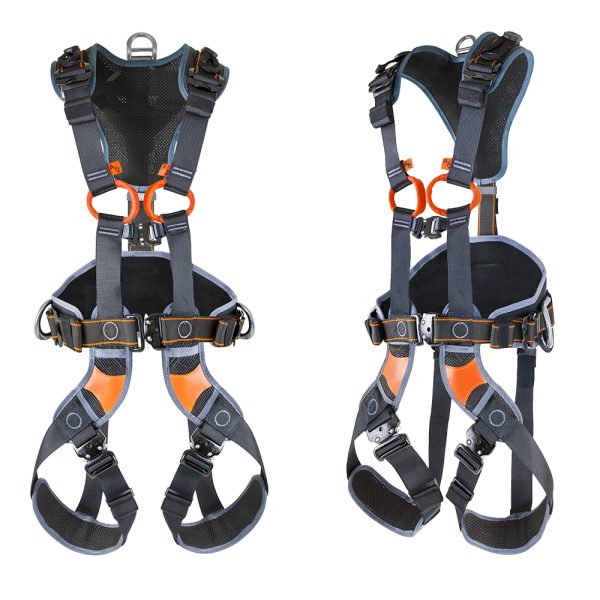 New HELIX gender-inclusive harness. A uniquely designed lightweight solution that prioritises comfort, fit and function for all body types, regardless of size or gender.
Maximum Adjustability: uniquely tailored to accommodate all body types, with nine points of adjustment for height, chest, waist, hip and thigh dimensions.
Ultimate Support: design prioritises a high level of comfort and support for an unrivalled range of user sizes. Fully adjustable rear design allows upper and lower aspects to be adjusted independently for a closer fit and exceptional comfort and security. Two lateral adjustments ensure the HELIX fits symmetrically and supremely well for extended use.
Integrated Shoulder Parking/Tear-Away Points: for stowing lanyards when not in use. Will break free in a fall, preventing issues from incorrect loading and lanyard shock absorbers being bypassed. Points are positioned on the shoulder pads to avoid the trip hazard associated with longer lanyards.
Versatile Front Attachment Point: for sliders, inertia reels and fall arrest lanyards. Textile chest loops are highly visible for easy location in emergencies. The low profile design aligns webbing and reduces bulk, ensuring a precise fit for maximum comfort and security. Sliding leg comfort pads enable ideal positioning.
Rear Attachment Point: positioned at the nape of the neck above a wide contoured shoulder pad to eliminate discomfort when climbing. This high rear point ensures a more vertical orientation of the casualty when  lowering during rescue and reduces risk of interference with ladder rungs.
Low Profile Design: breathable low profile back panel and padded waist belt provide support and protection while climbing. The padded waist belt is fitted with two side D's for work positioning and can be folded back to reduce snagging when not in use. The back panel helps hold the harness in shape, protects the webbing beneath, reduces tangling and aids orientation when fitting, whilst still enabling access for inspection.
Elastic webbing retainers on the strap ends allow excess webbing to be stowed neatly and easily. Gear loops are positioned to reduce snagging risks when climbing and provide easy access, management and organisation of tools.
SafeLock™ quick connect leg, waist and chest buckles make fitting fast, easy and precise. Quick connect buckles also allow the harness to be removed without the need for re-adjustment.
View the full list of features.
The HELIX specialist wind turbine harness complies with Siemens PPE requirements PRO-13838 Ap1.
Available in our Wind Turbine Climbers Kits:
Try the harness yourself at any of our upcoming renewable events – view details
Manufactured in the UK by heightec.

---