For individuals wishing to pursue work as a freelance technician we recommend the IRATA IRATA Rope Access Training scheme, which is widely recognised by contracting companies.
A rope access system has been described as "… a safe method of working at height where ropes and associated equipment are used to gain access to and from the work place, and to be supported there…"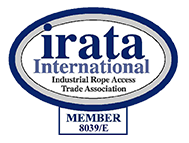 Rope Access techniques can be used in a wide range of onshore and offshore activities:
To carry out theatre and concert rigging
Maintenance and repair work
Surveying and NDT (non-destructive testing)
Construction and groundworks
Window cleaning
Wind turbine blade cleaning and maintenance
It is advantageous if rope access technicians have an additional trade qualification to compliment their IRATA Rope Access training qualification.
There are three IRATA training levels. All initial training participants start with level 1:
Level 1 training course is suitable for newcomers to rope access work, no previous rope access qualifications or experience is required.
Level 2 participants must already hold the IRATA level 1 certificate and have minimum 1000 hrs experience in rope access work.
Level 3 participants must already hold the IRATA level 2 certificate for at least 1 year and have minimum 1000 hrs experience at level 2 in a variety of situations.
Level 1 – entry level course covering a wide range of working locations. Recommended for participants who wish to enter the industry as rope access subcontractors.
The level 1 course covers basic principles of movement on ropes – ascent, descent, changing from ascent to descent, changing from rope to rope, crossing a knot, aid climbing and traversing, passing re-anchors and deviations. Participants on the level 1 course will also learn:
The characteristics of a safe system of work
Rope access equipment
Legislation, hazards, risk assessment and method statements
Equipment conformity, certification and inspection
Emergency and rescue procedures
Use of a back-up system
Elementary rigging and rope management
Elementary rescue
Level 2 – for participants who already have an IRATA level 1 qualification and additional work experience.  An intermediate (Level 2) IRATA Rope Access Technician is capable of rigging working ropes, undertaking rescues and performing a variety of rope access tasks. They should have knowledge of legislation, safety requirements and quality assurance procedures relating to rope access. The level 2 course also covers:
Legislation, guidelines and standards Safe Systems of Work
All the sections covering equipment and rigging at level 1 and in addition shall include the following:
Wide 'Y' hang, re-belay, deviations, rope and sling protection, pull-through, work-restraint and horizontal lifelines, tensioned ropes.
Level 3 – allows supervision of a wide range of work sites. Participants must possess an IRATA level 2 certificate. A level 3 Supervisor is capable of site supervision for rope access work projects and be conversant with relevant work techniques and legislation. They should also be able to demonstrate all the skills and knowledge required of IRATA Rope Access Level 1 and Level 2 and have a comprehensive knowledge of advanced rescue techniques.
Practical skills covered include a full range of technical and/or complex access and rigging techniques, including fall protection methods, advanced rescue, lead climbing and application of pulley systems in addition to:
Risk assessment and method statements
Equipment inspection
Management and records
Rescue management
Safety footwear required for all practical sessions.
heightec holds public and professional indemnity insurance which includes personal injury. You should be aware that not all training providers have this cover.
ACWAHT (Advisory Committee for Work at Height Training) syllabus is also covered in this course.
More information on IRATA's Training, Assessment & Certification scheme can be found on their website.
IRATA Participants: Please read – IRATA Candidate Disclaimer and Liability Release before the course.
Participants who work in specific environments such as cleaning or geotechnical may wish to consider  ISO Rope Access training. Read our FAQ on IRATA vs ISO Rope Access Training.
It is the participants/bookers responsibility to ensure that all relevant pre-requisites are met to attend this course and that the evidence is provided on the first day of the course e.g. in-date certificates for revalidation courses.
Failure to meet any of these pre-requisites may result in the participant being asked to leave the course. No refund will be given in this event.
15% discount – on completion of your training course you will receive voucher code giving you 15% off your next heightec equipment order online.