This course conforms to MATS requirements and is Arqiva approved for the Gateway access scheme.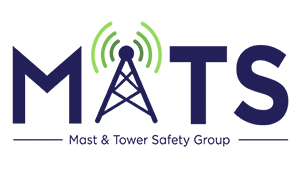 MATS Telecom Climber Roof & RF Hazards is a 4 day course designed for new starters in the telecoms industry who require access to all parts of a typical tower structure and roof area.
The course package provides sufficient knowledge to allow participants to work safely. The package contains the following courses run over 4 consecutive days:
MATS Initial Basic Tower Climbing & Rescue – developed by the Mast & Tower Safety Group (MATS) in collaboration with EUSR to support the safety of workers on towers and masts in the telecoms and broadcast industries.
MATS Rooftop Worker – Safety & Access – designed to support the safety of those individuals who access and work on flat rooftops, particularly in the telecoms industry and is a mandatory requirement to work on BT and Arqiva sites.
RF hazards – for contracting staff, supervisors and managers who are concerned with access areas close to radio frequency transmission equipment used in the telecommunications industry.
The MATS Telecom Climber course provides a range of skills for climbing towers and accessing flat roofs, including the use of all safety equipment and tower rescue kits.
Includes the elements of a Safe System of Work, including equipment selection and pre-use inspection, use of tools, risk assessment, method statements and emergency procedures. Evacuation and rescue are practised at height.
RF hazards introduces the new Control of Electromagnetic Fields at Work Regulations 2016.
Tower Climbing Course elements covered include:
All of – syllabus TFP0 – Introduction to personal fall protection (WAHSA), plus:
Legal, personal and medical requirements for work at height.
Risk assessment, method statements, emergency procedures.
Selection, care and maintenance of equipment.
Restraint, work positioning, fall arrest systems.
Use of ropes and knots.
Emergency procedures.
Roof safety hazards.
RF hazard awareness and monitoring.
The CEMFAW Regulation 2016.
Practical skills covered in this course include:
Safe use of Personal Protective Equipment.
Proper execution of simulated work task.
Climbing techniques, ladder and structure.
Climbing techniques and fall protection in exposed locations.
Use of temporary and fixed fall protection systems.
Use of temporary ladders.
Competent rescue of casualty from structure.
Ensuring safety of self and others.
Roof top restraint systems.
Using a commercial RF monitor.
MATS Participants ESSENTIAL – PLEASE NOTE:
Course costs include EUSR registration and Virtual Card. 
EUSR registrations – Participants who are already registered with EUSR must provide their ID numbers at course registration. First time registrants must provide a digital passport photo (.jpg format) and mobile phone number when booking.
To access the EUSR virtual cards you will need to download the EUSR 'Vircarda' app on your mobile phone. For more information see Vircarda User Guide
MATS participants are required to bring a government issued ID (passport or driving license) which will be checked at registration on their course.
Safety footwear required for all practical sessions.
It is the participants/bookers responsibility to ensure that all relevant pre-requisites are met to attend this course and that the evidence is provided on the first day of the course e.g. in-date certificates for revalidation courses.
Failure to meet any of these pre-requisites may result in the participant being asked to leave the course. No refund will be given in this event.
15% discount – on completion of your training course you will receive voucher code giving you 15% off your next heightec equipment order online.